,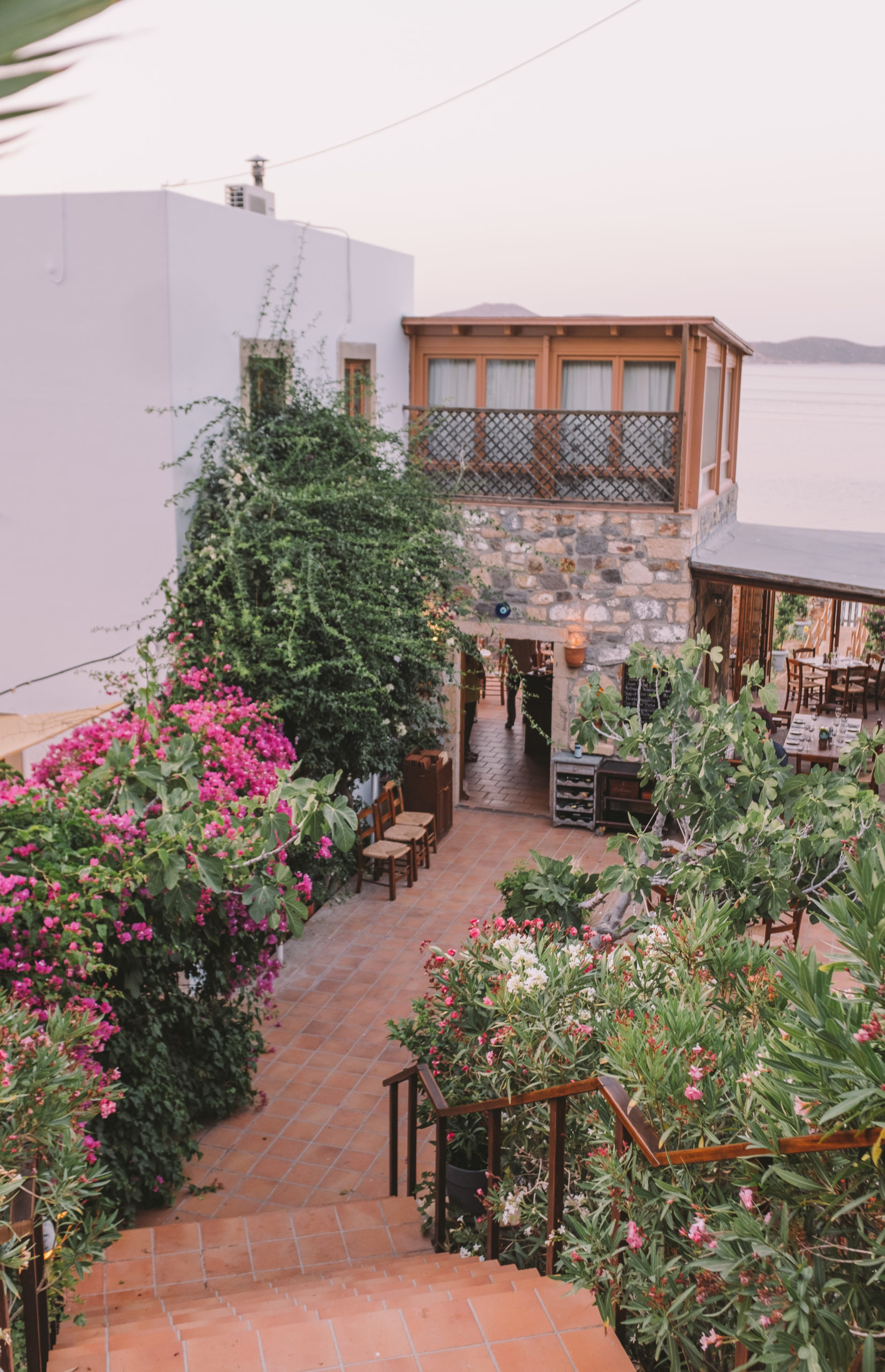 Visit Patmos island
Are you looking for the perfect summer getaway? Visit Patmos Island and you will find a stunning Mediterranean paradise! Located in the Aegean Sea, Patmos is an idyllic island boasting crystal-clear waters and picturesque views. It's the ideal destination for those seeking a relaxing retreat in a peaceful and tranquil setting.
There are plenty of activities to keep you busy while on the island, from exploring its historic sites and monuments to enjoying a variety of outdoor activities.
Whether you are looking for a romantic getaway or an adventurous vacation, Patmos Island is the perfect summer destination for you!
Follow me on Instagram for more great content like this!
Book your stay in Patmos island with Booking.com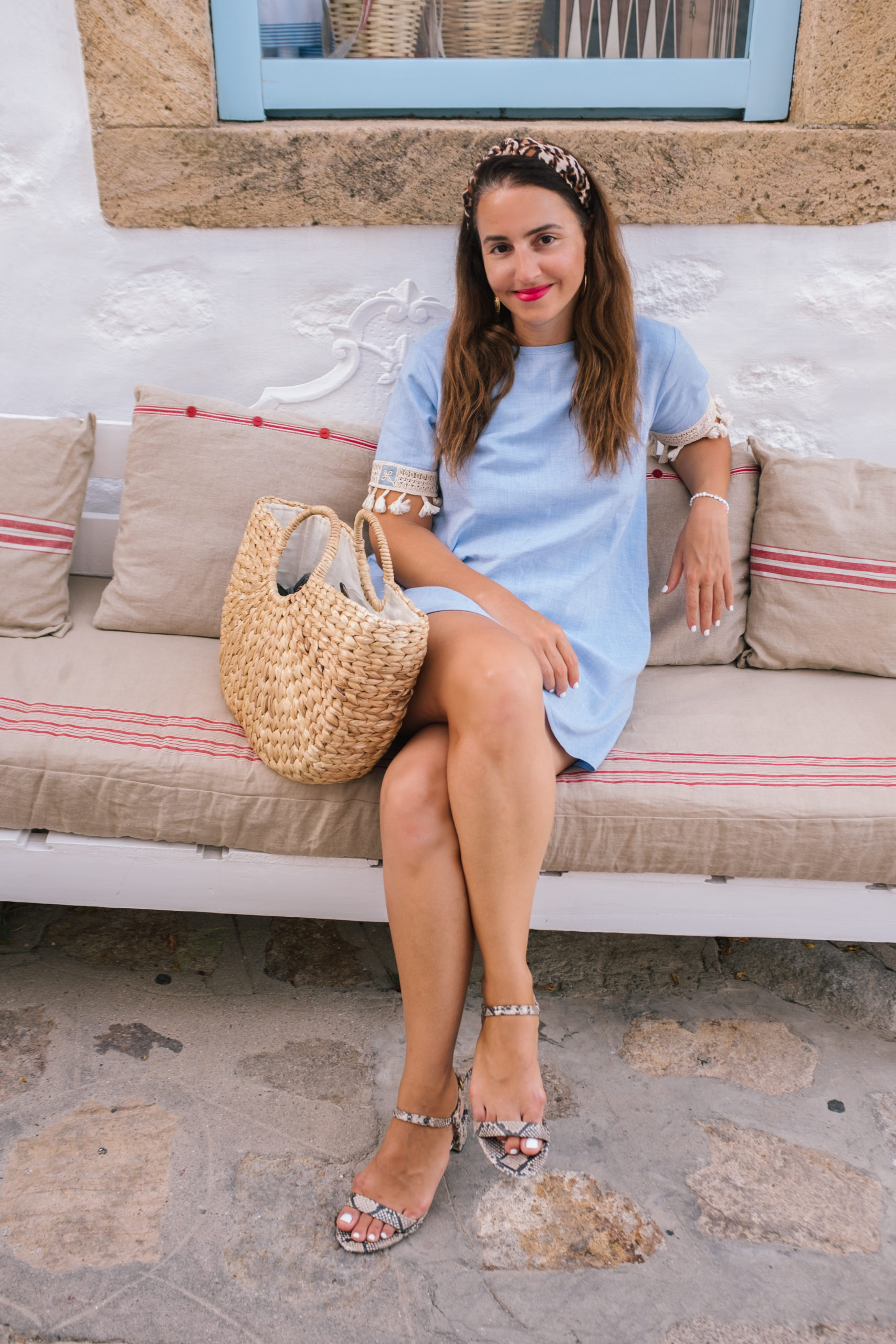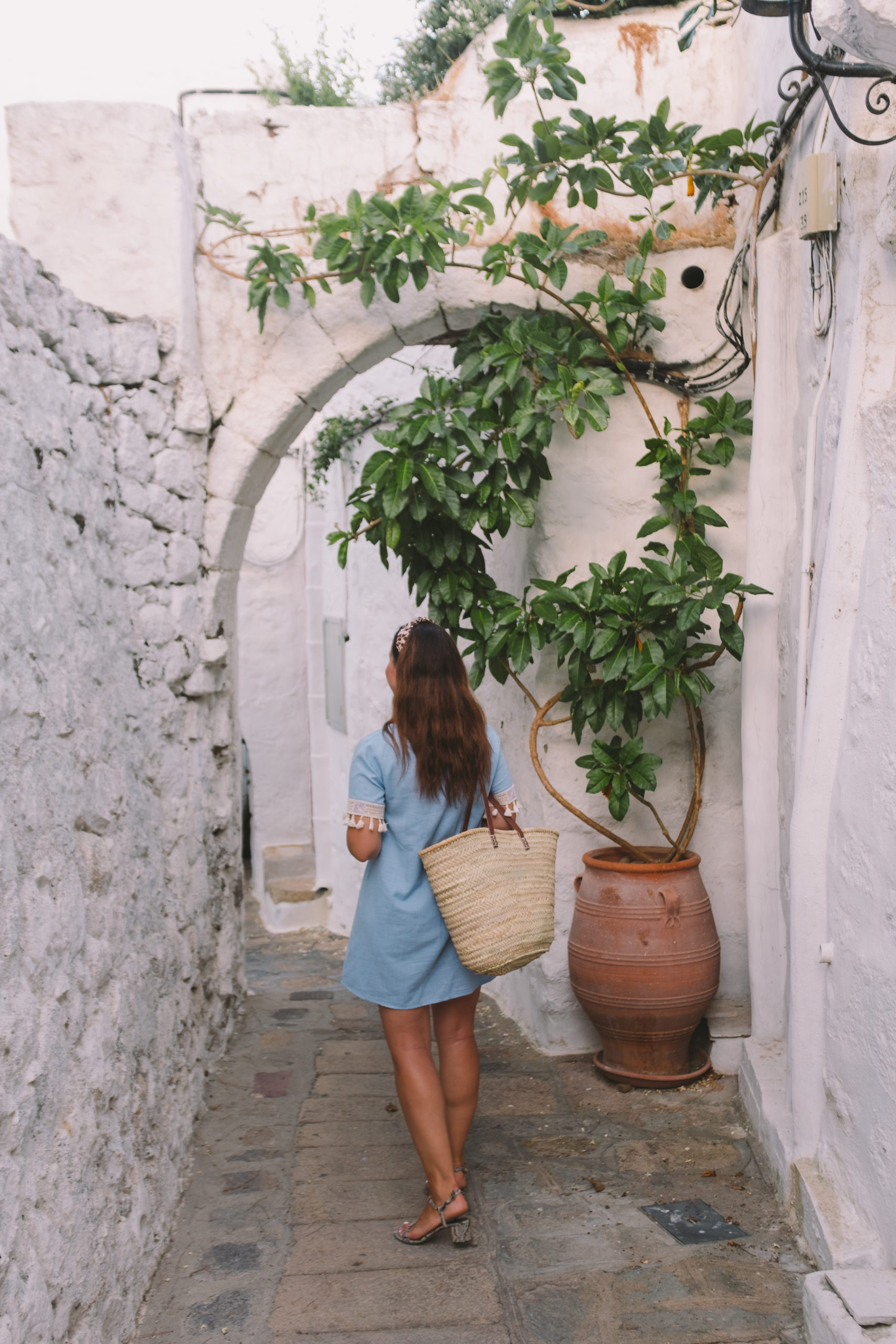 Visit Patmos island
Patmos Island is a small but picturesque island in Greece that is a must-visit destination for anyone looking for the perfect summer getaway. Known as the "Island of the Apocalypse," Patmos Island is famous for being the place where Saint John wrote the Holy Book of Revelation. However, there's more to this charming island than just its religious significance.
The best things to do in Patmos Island
If you're wondering about the best things to do in Patmos Island, there's no shortage of activities to choose from. From exploring the stunning beaches and picturesque villages to indulging in local cuisine and shopping for souvenirs, there's something for everyone. The island is also home to many historic and cultural landmarks, including the Cave of the Apocalypse, the Monastery of Saint John the Theologian, and the Patmos Maritime Museum.
Reasons to visit
There are many reasons to visit Patmos Island, from its fascinating history and culture to its natural beauty and tranquil atmosphere. Whether you're looking to relax on the beach or explore the island's many attractions, Patmos Island is sure to provide an unforgettable summer experience. Just remember to pack sunscreen, a hat, and comfortable walking shoes, as there's plenty of outdoor adventure to be had on this charming Greek island.
All in all, the trip to Patmos Island is well worth it for a number of reasons. Not only will you be able to experience one of the most picturesque islands in the Aegean, but you'll also be able to soak up some authentic Greek culture along the way. Just be sure to book your accommodations well in advance as spaces can fill up quickly during peak season!
If you want to stay updated with my latest photos and videos, please follow me on Instagram @theviennesegirl
Book your stay in Patmos island with Booking.com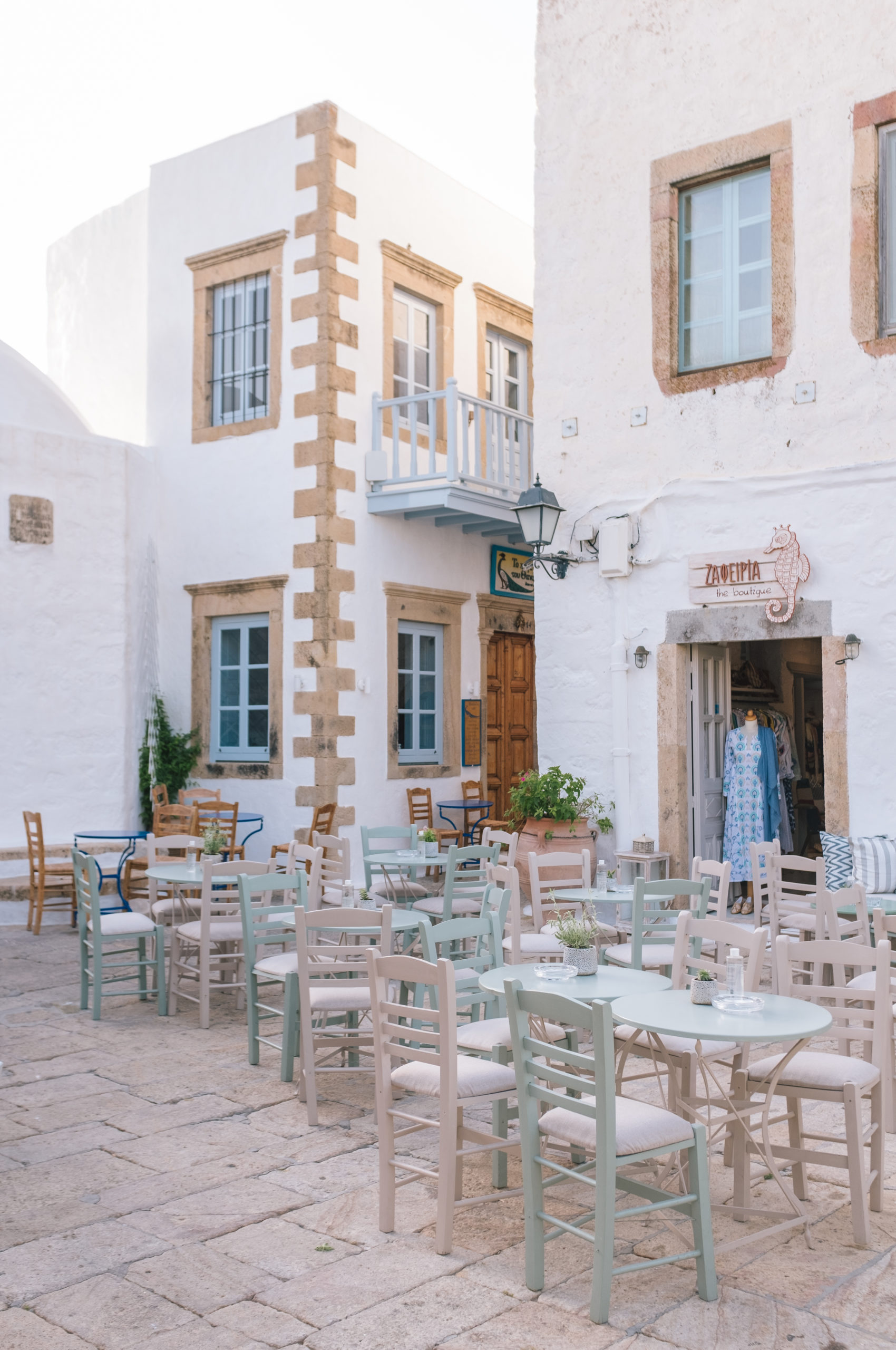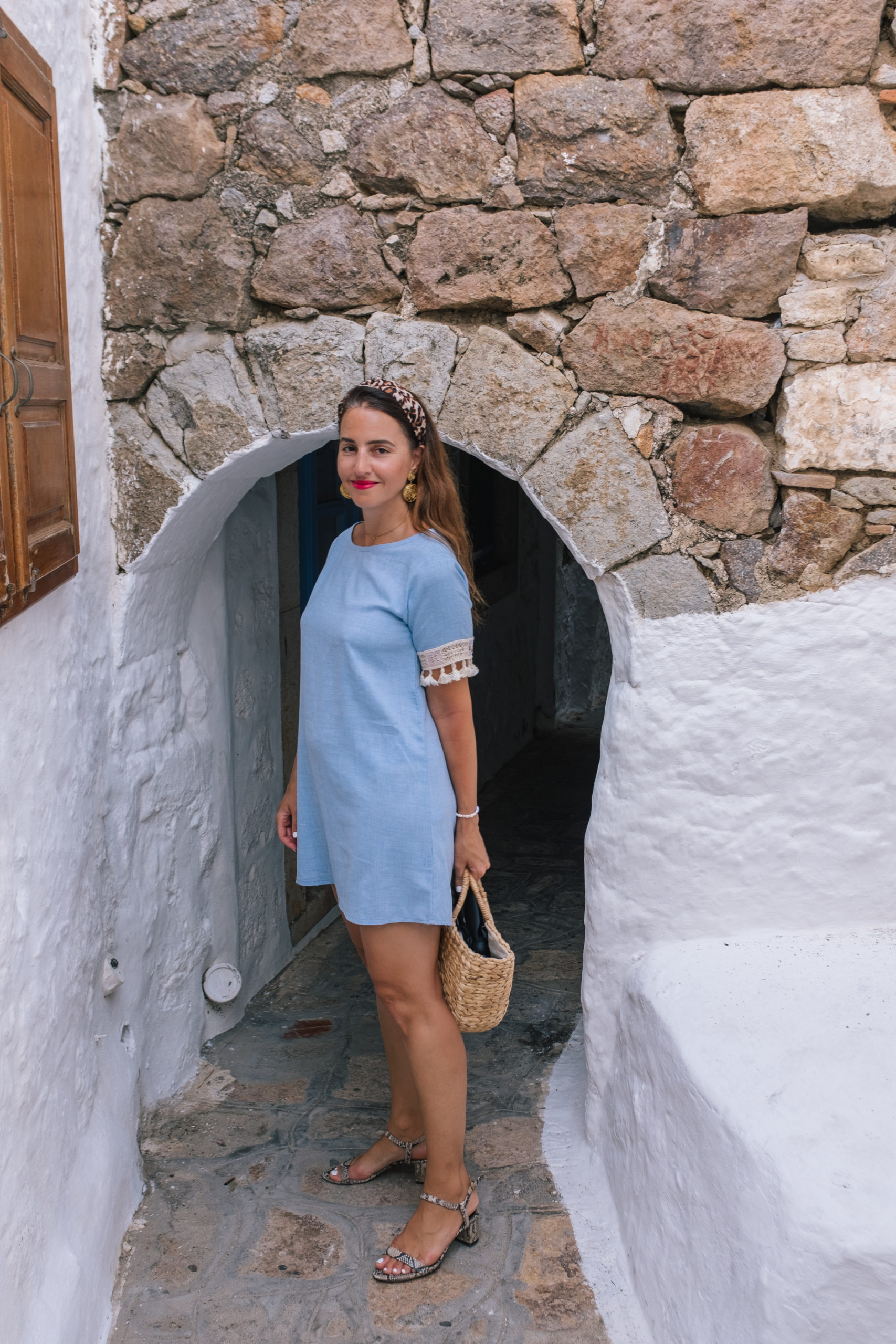 Where to stay in Patmos island
We tried two different kind of accommodations which are located in two different parts of the island. We often like to do that. By doing this, we get to experience one island in different ways and see it from different perspectives. So we spent two nights in a unique and historic countryside estate that is called Langada and three nights at one of the beautiful villas of Onar Patmos.
Stay connected with me and my adventures by following me on Instagram!
Book your stay in Patmos island with Booking.com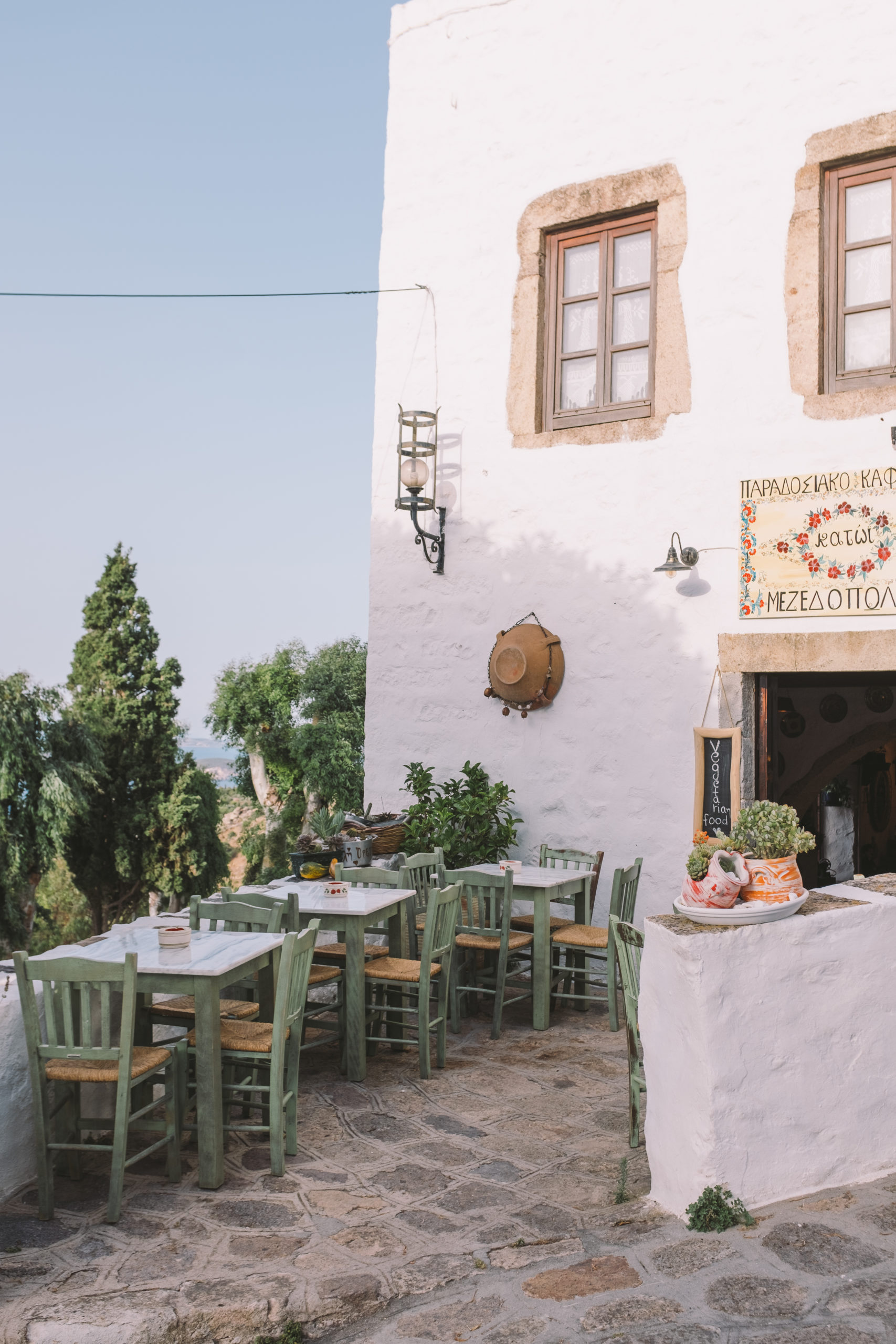 HOW TO GET TO PATMOS ISLAND
Patmos Island may be a bit out of the way, but the effort to get there is definitely worth it! Here are a few ways you can make your way to this idyllic summer getaway.
The most common way to reach Patmos Island is by ferry. You can catch a ferry from a number of ports in Greece, including Athens and Rhodes. If you're coming from further afield, you may want to consider flying into one of these cities first before continuing your journey by ferry.
Another way to get there is by taking a ferry from Athens or other nearby islands. The ferry ride itself is an enjoyable experience as it provides stunning views of the Aegean Sea and the surrounding islands.
If you're short on time or simply prefer a more direct route, you can also fly into nearby islands such as Kos or Samos and then catch a ferry to Patmos from there.
Regardless of how you get to Patmos, once you arrive you'll find a host of exciting activities and experiences waiting for you. From exploring the historic monasteries and churches to swimming in the crystal-clear waters of the Aegean Sea, there's no shortage of the best things to do in Patmos Island.
Don't miss out on exclusive behind-the-scenes photos and videos, follow me on Instagram!
Book your stay in Patmos island with Booking.com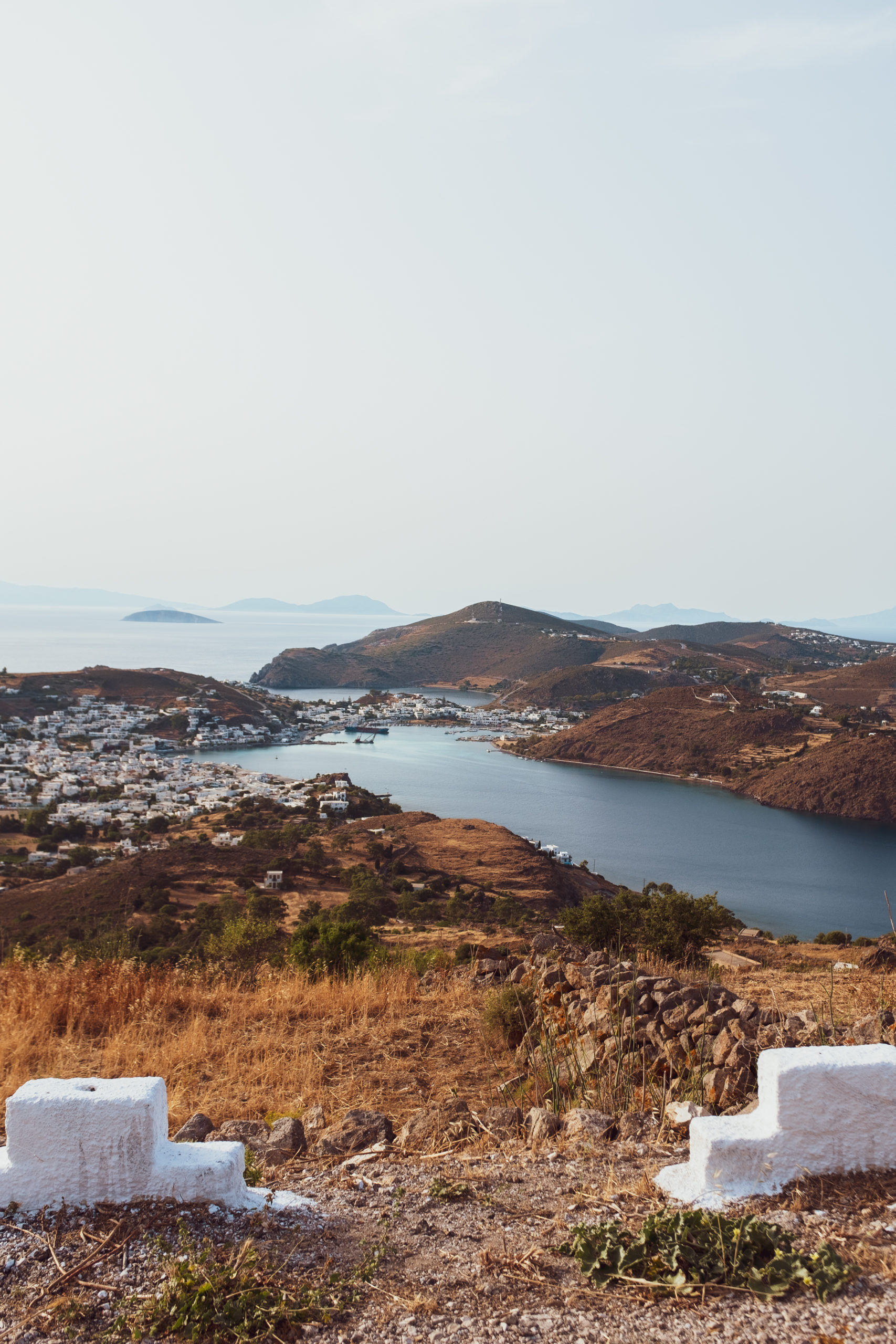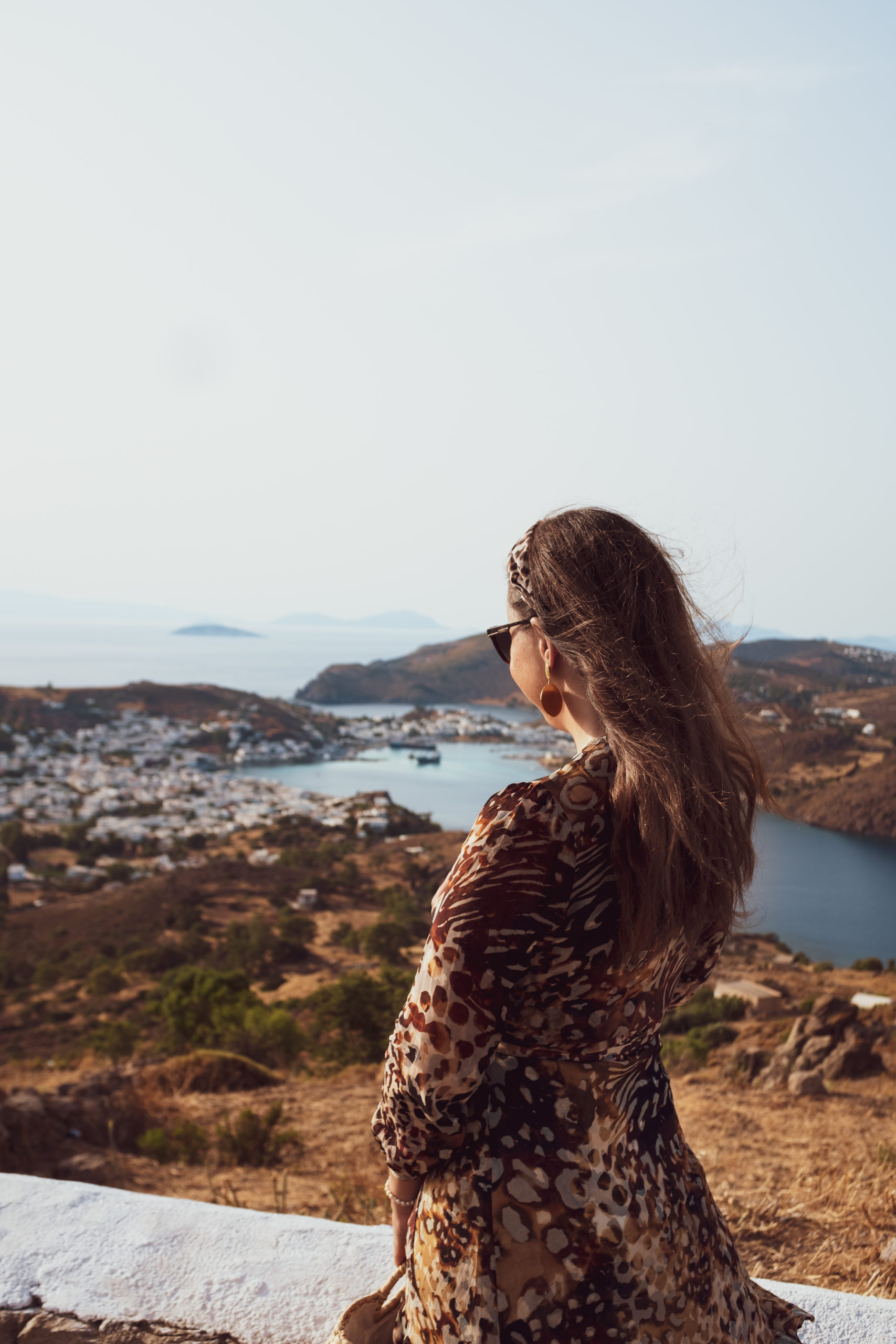 Where to eat in Patmos island
For dinner: To tsipouradiko mas / Benetos restaurant (there are two of them) / Jimmy's Balcony (here meet the owner) / Vaggelis restaurant
Beach bar: Atmos
For breakfast and coffee: Katoi
If you love travelling, make sure to follow me on Instagram for more.
Book your stay in Patmos island with Booking.com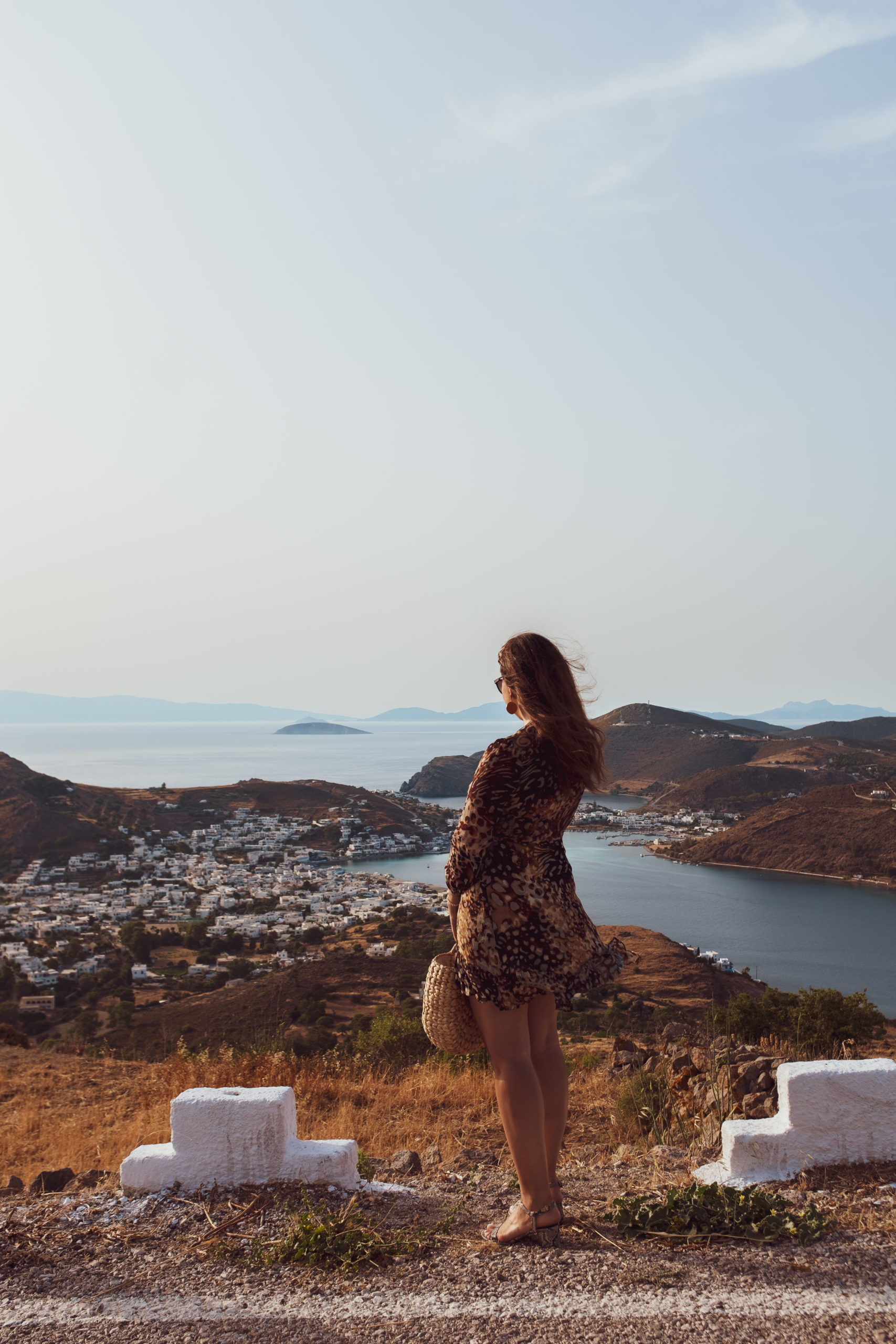 SUPPORT MY WORK!
If you enjoy my content and you'd like to support this channel, so that I will be able to continue offering you that kind of content for free, please consider using my AFFILIATE LINK on Booking.
When you make a booking with BOOKING.COM using my link, I earn a small commission at NO additional cost to you.
Alternatively, if you enjoy my travel stories, tips and photography, you can say Thank you by offering me a 'virtual' coffee here.
In case you'd like to book me as your photographer in Vienna, you can find more info here. Please have a look at my portfolio, if you'd like to know more about my photography work.
Join my Instagram community and stay updated on my latest posts by following me!
Thank you from the bottom of my heart for using my affiliate link!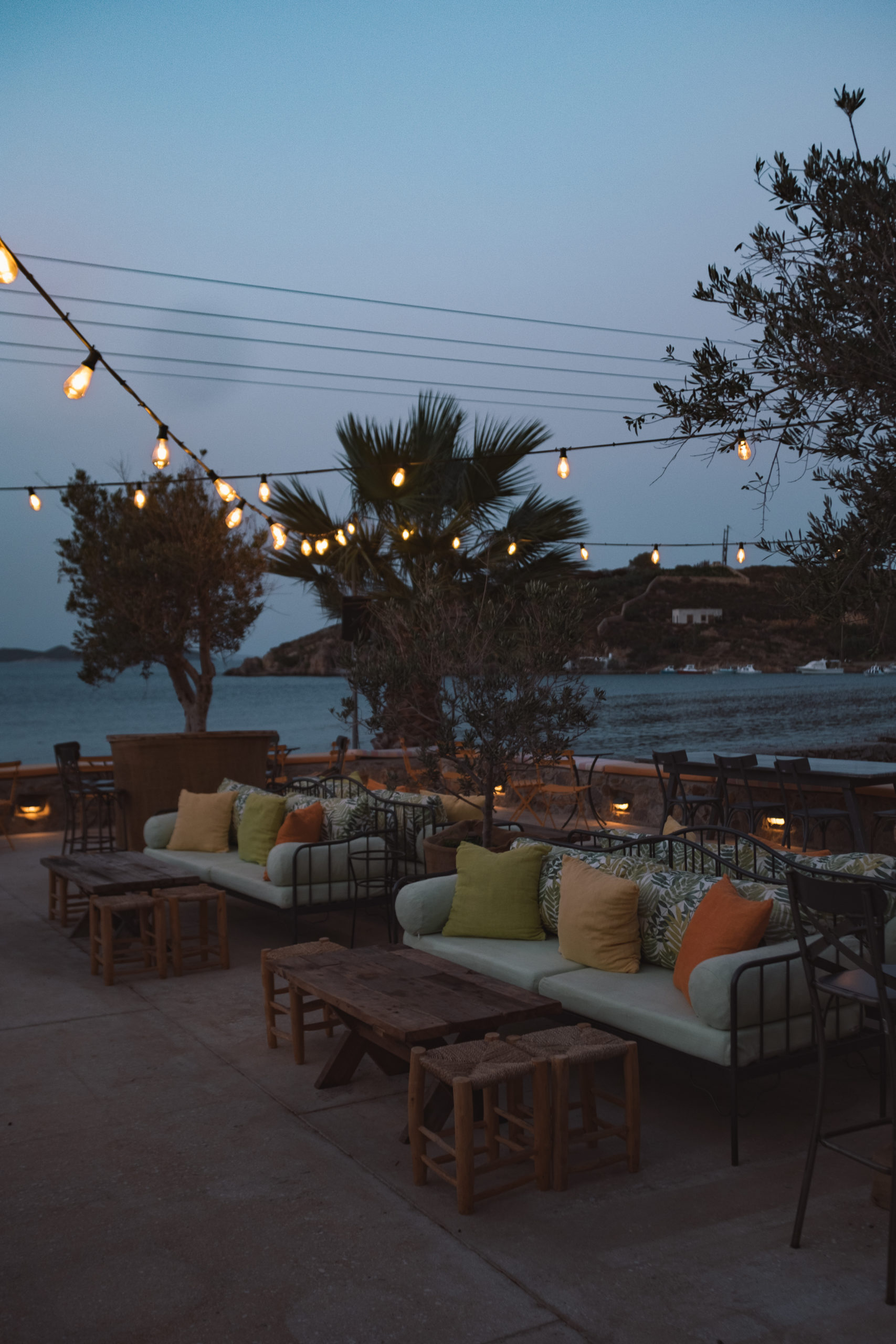 Highlight of my trip to Patmos island
Highlight of my trip to Patmos island was the encounter with the painter Andreas Kalatzis. We passed by his studio/gallery late in the evening and we saw him working on an art piece that he had to ship to the US. Something attracted us to him, and without giving it a second thought, we jumped into his studio! It felt immediately like we have been knowing each other for years. Everything about him, his life and his work was incredible inspiring to us! We wanted to keep in touch with him. Therefore, we asked for his business card. He took a small piece of paper, he drew a couple on it, and on the back he wrote his name and his telephone number! Definitely the most beautiful business card I've ever seen! And the only one I will keep in my wallet!
Please take a moment to share this blog post with your friends and family on your Facebook profile. They might also be looking for inspiring travel stories and exceptional travel photography. Sharing is caring.
Discover more of my GREECE TRAVEL GUIDES!
The Best Restaurants in Chania
Hydra island: 10 must do activities
Where to stay in Patmos island
The Ultimate Karpathos Travel Guide
Book your stay in Patmos island with Booking.com
♥
Disclaimer: This post contain affiliate links, meaning I get a commission if you make a purchase through the links which comes at no cost to you. Thank you from the bottom of my heart for using my links.