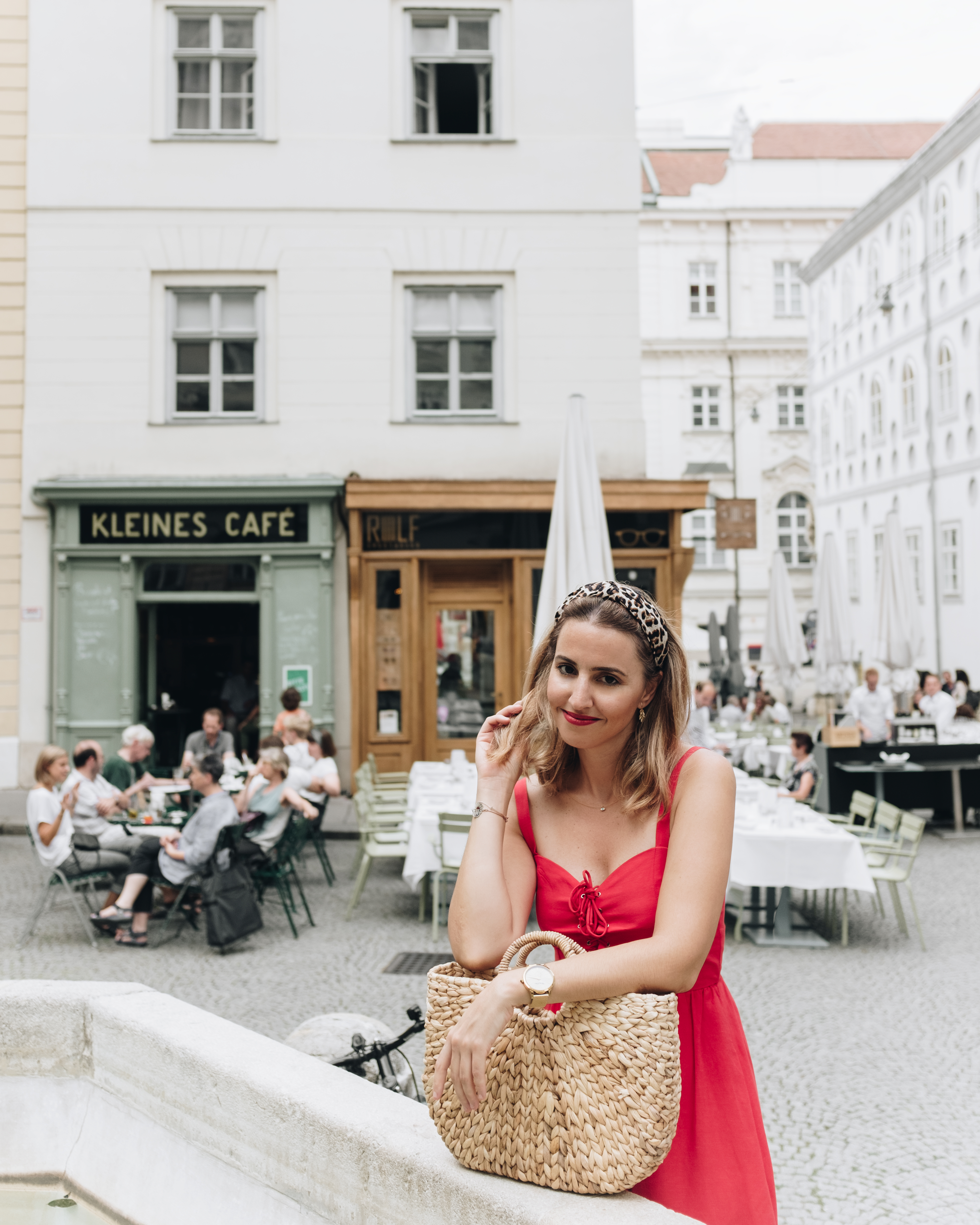 MY STORY
In June 2011, what was intended as a three-month summer holiday to attend a German language course in Vienna became a pivotal moment in my life. I was already fluent in English and Italian and saw German as a new linguistic challenge worth pursuing.
How 3 months turned out to be 12 years
Those initial three months stretched into an astonishing twelve years, as I found myself captivated by the city's allure and a desire to pursue my dreams like never before. Leaving behind my job, family, and friends in Greece, I embraced the unknown in Vienna, seeking new horizons and personal growth.
While the decision may have seemed unconventional at first, I remained steadfast in my belief that this path was meant for me, despite the inevitable challenges and obstacles along the way. I embraced the city's inspiration and embarked on a journey of self-discovery, fueled by a desire for new experiences and artistic exploration.
Fast forward to May 2023, and I proudly declare that I am still rooted in Vienna, my home for over a decade. The comfort zone I left behind in Greece may have been tempting, but I recognised that true growth and transformation lie beyond its boundaries.
A comfort zone is a beautiful place! But nothing ever grows here!
 THE SPIRIT OF TVG
The Viennese Girl blog is a blog about all the things I love: travel and photography, breathtaking experiences and feelings.
TVG readers are people who seek and appreciate beautiful things in life, and more specifically, strong and independent females who stand on their own feet and are capable of achieving great things. They visualise and create their own lives, and not necessarily live a life that is predesigned for them.
Choosing to live the life you love requires you to take risks, the risk to step into an unknown territory. Breaking out of the status quo can be intimidating because it requires you to carve your own path, instead of following the plan that's been laid out for you…but despite it all, if you still choose to follow that spark of curiosity and lead with your heart, I truly believe you will be rewarded with a life that's full of purpose and the freedom to create the most beautiful story that is uniquely yours. – quote by Malama Life on Youtube. 
MY VISION
Considering the fact that technology nowadays lessens the distance between us, this blog represents the idea of bringing me closer to like-minded people all over the world and sharing my perspectives with them.
This blog opens a door to the world, and celebrates new beginnings, changes and challenges — all the small and big things that bring joy to life. My vision is to keep it interesting, inspiring and to bring value to others' lives by creating unique content. Content that you cannot find in other websites.
I want to dedicate my blog to travel, photography and personal growth. Because travel and photography helped me to find my mission in life and grow on a personal level.
Join me on this journey of discovery, as we uncover new horizons together. Be a part of this Viennese community! Find me on Instagram, Facebook, Twitter, YouTube and do not hesitate to say hello.
PRESS/COLLABORATIONS
Since TVG went online, it has been featured both in print and online in prestigious magazines, newspapers and websites such as BBC NEWS and Condé Nast Traveller.
I have had the honor of collaborating in various projects with brands I love, such as CHANEL, Tiffany & Co, Dolce & Gabbana, Swarovski, FENDI, L'Oréal Vichy, Samsung Austria, Sezane Paris,  Nespresso, Sacher hotels, Austrian Airlines, Air France and others.
WORK WITH ME
There are are many ways we can work together. Feel free to send me your email with your project and explain how can I help you to achieve your goals. I will reach out to you within 24 hours.
If you're planning a trip to Vienna and seeking a professional photographer to capture the essence of your visit, you've come to the right place. Would you like to have unique and stunning photos from your time in Vienna? Let me help you preserve the magic of your holiday with a Vienna Photo Session.
No matter the purpose of your visit to Vienna—whether it's a romantic honeymoon, a memorable family vacation, a fun-filled girls' trip, or even a soul-searching solo adventure — I am dedicated to providing you with an inspiring gallery of extraordinary photos that perfectly capture the essence and spirit of your journey.
If you want to book me for any other kind of collaboration related to my work, feel free to contact me per email at silia@theviennesegirl.com. I will get back to you as soon as possible!
In the meantime, please have a look at my Portfolio.
SUPPORT MY WORK
If you enjoy my content and you'd like to support this channel, so that I will be able to continue offering my travel stories and travel tips for free, you can buy me a 'virtual' coffee here.
Alternatively, please consider using the below AFFILIATE LINKS from Booking & Amazon. 
If you make a booking with BOOKING.COM or a purchase on AMAZON.COM, I earn a small commission at NO additional cost to you.
Thank you from the bottom of my heart for using my affiliate links! 
All pictures on The Viennese Girl are taken by Silia, unless stated otherwise and are protected by copyright. Always request permission before using images from The Viennese Girl blog.